Inspiration for design at Artists'' Corner
June 21, 2022
The discovery of this chest of drawers started the interior design At Artists' Corner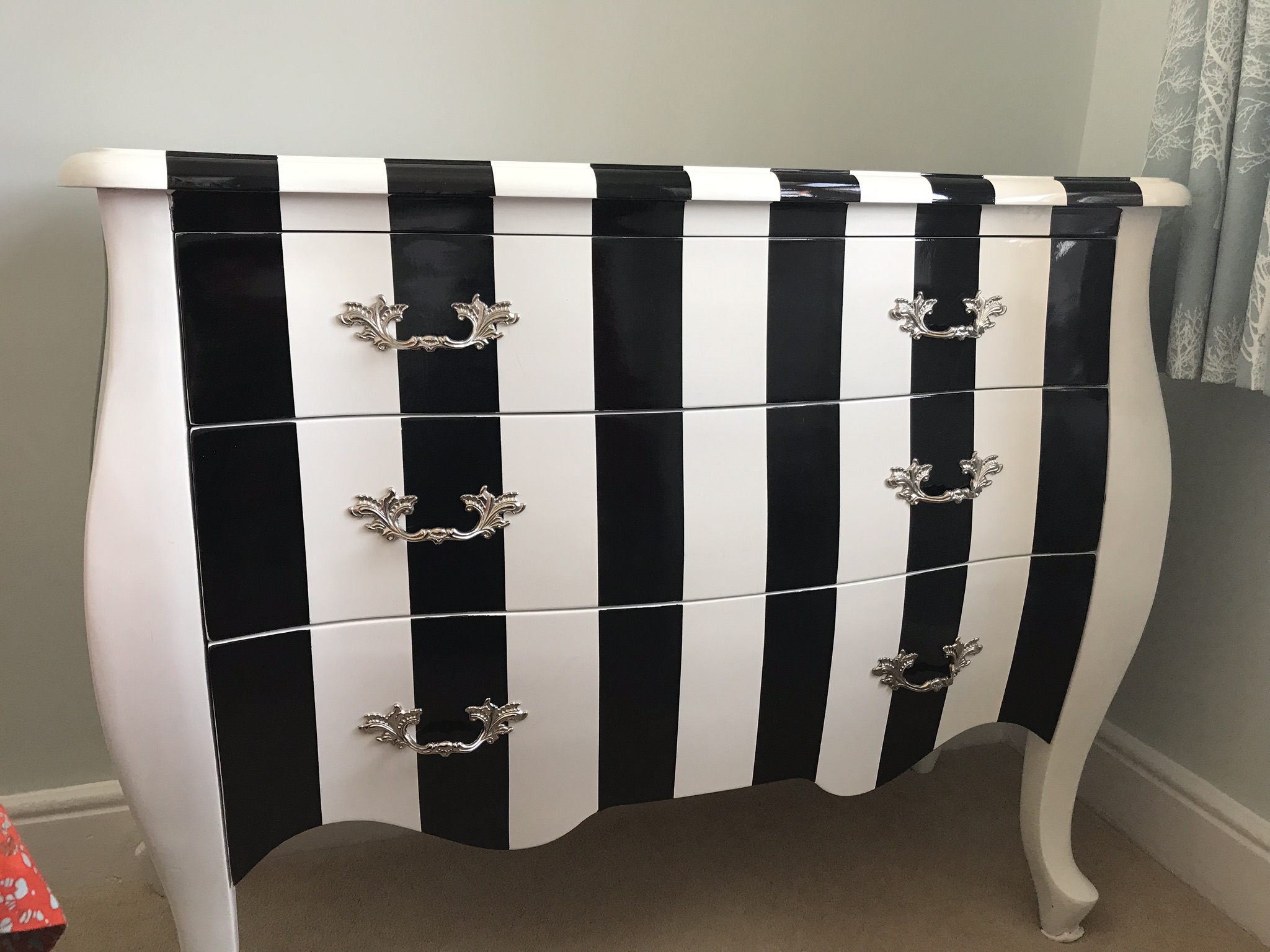 The chevron headboard was designed to co-ordinate with the drawers. The swan bedside lamps came from https://www.next.co.uk/laura-ashley
The white desk, orange and white chair and white bedside tables came from Barker and Stonehouse and complemented the black and white scheme. The orange and white chair together with the orange desk lamp give the room a focal point. The cushions and bed spread were made from fabrics obtained locally and chosen to match the orange chair and desk lamp. They lift the room and give colour. The curtains and walls are very pale duck egg. The colour has a soothing influence.
Guests love the vibrancy of the room, yet find they can relax.
The second bedroom needed to have a similar feel. Here we used fabrics as our starting point.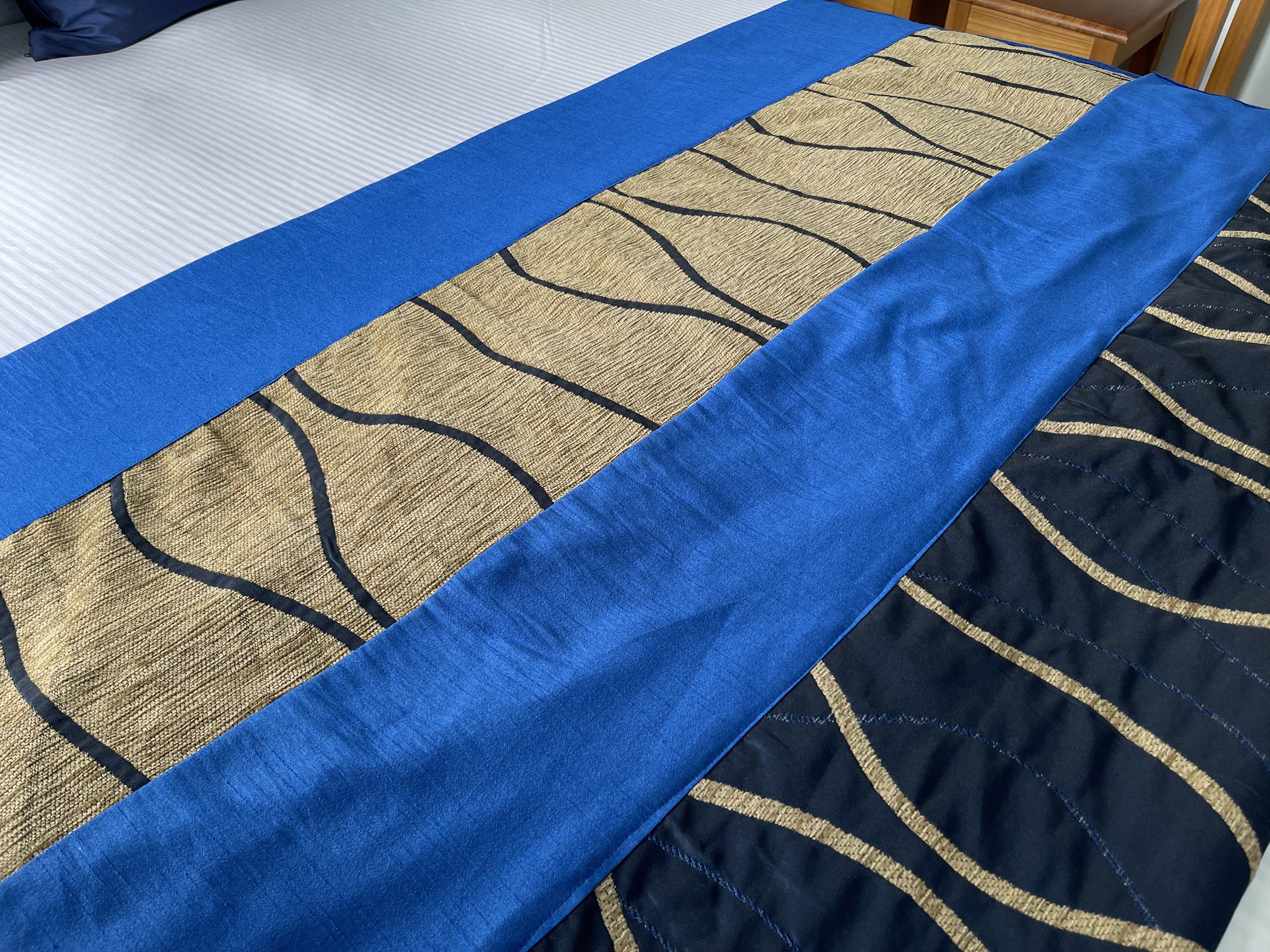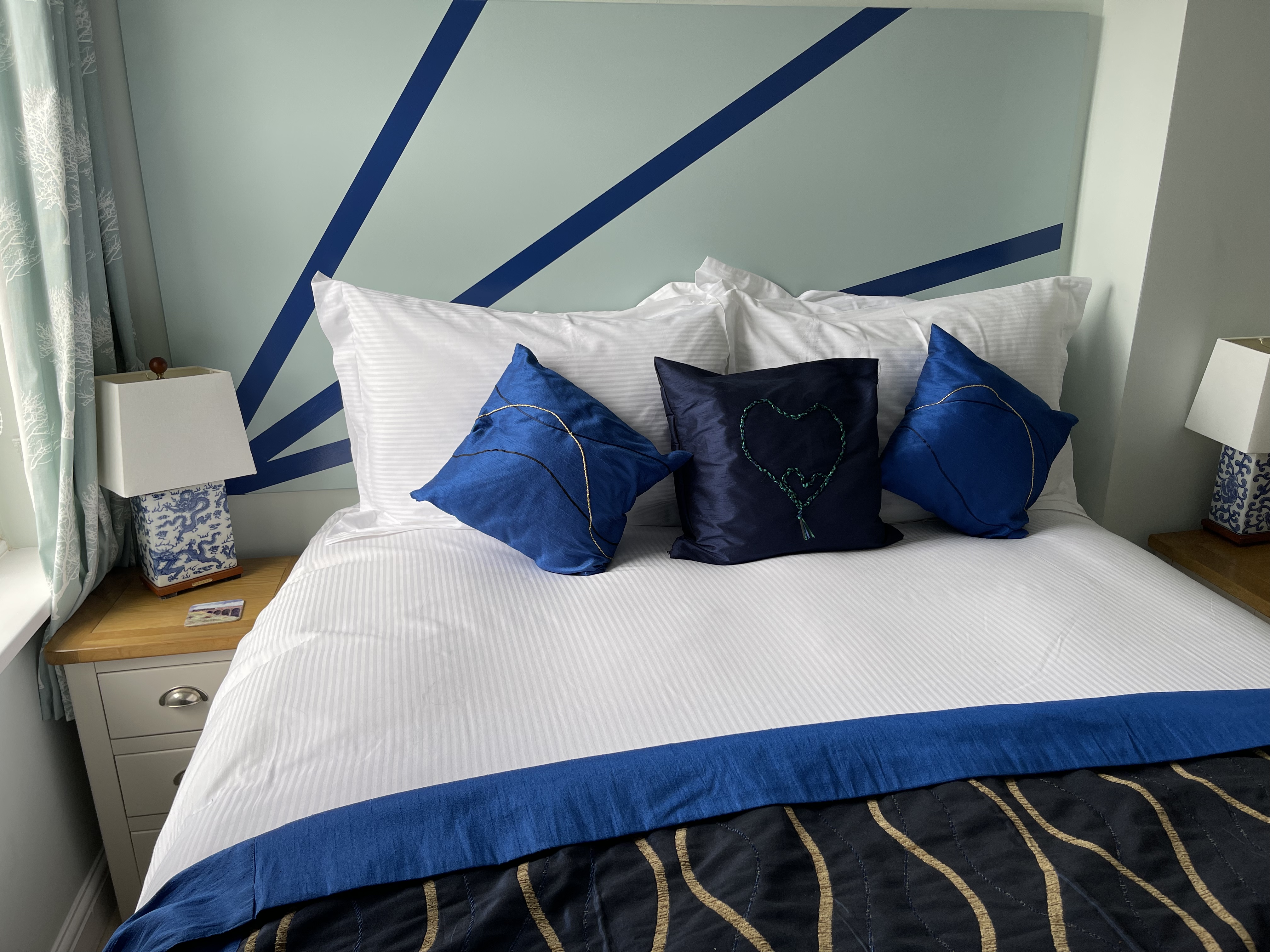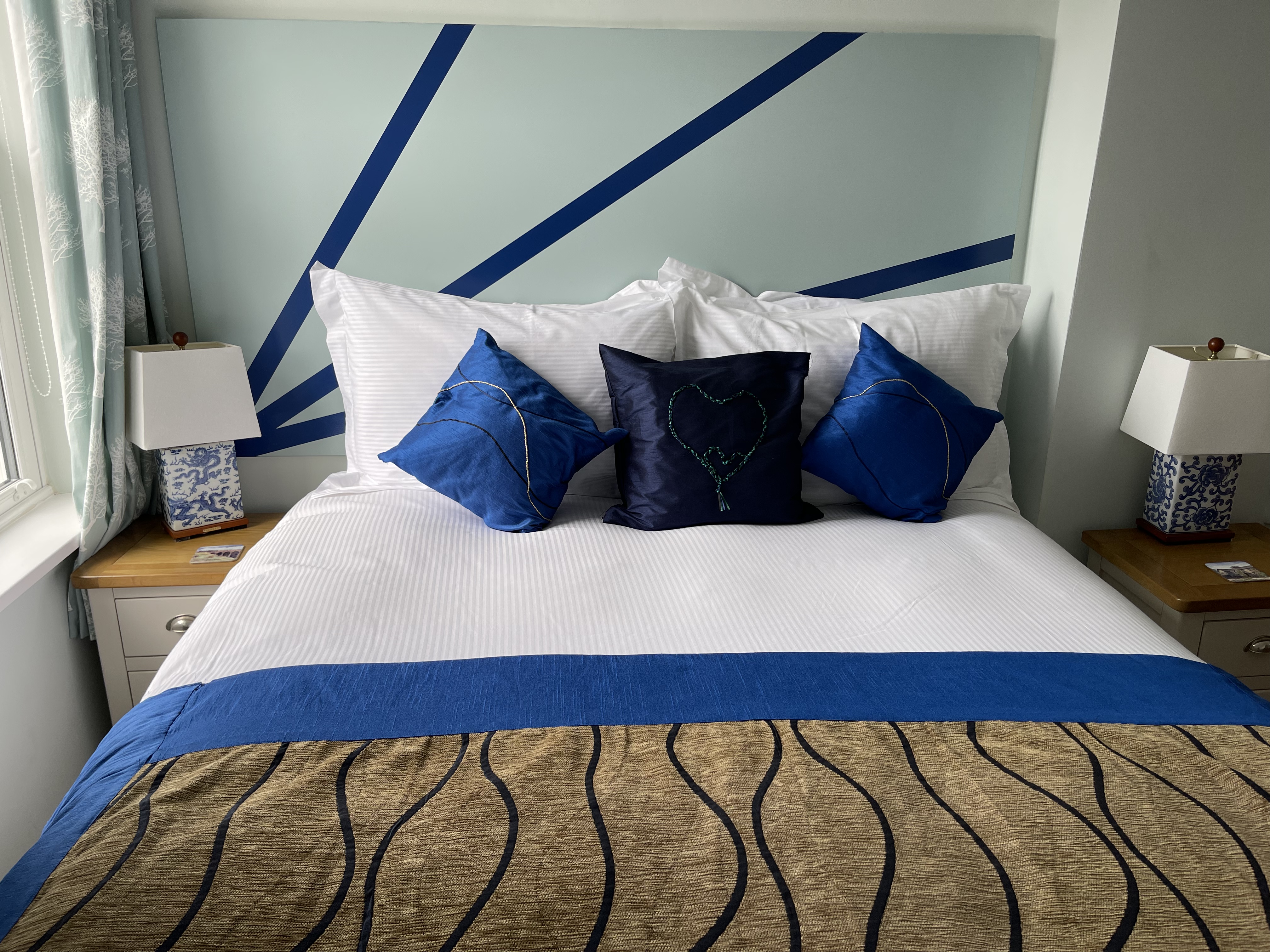 Because the fabrics are reversible we can present the room in different ways. We picked the dark blue to make the headboard design- this time using rays rather than a chevron and using a shade darker than the wall as the background.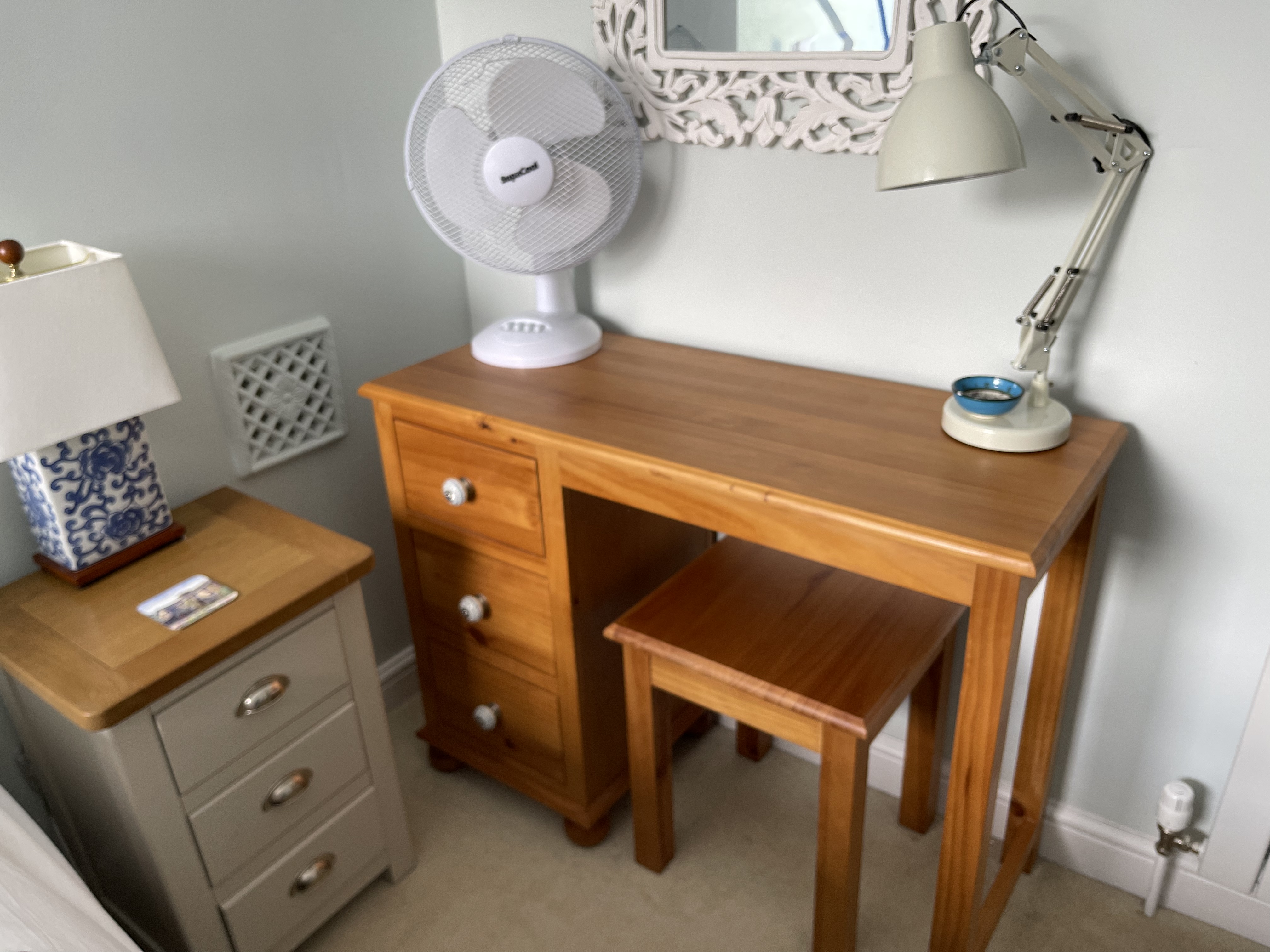 In this room we used natural wood and grey bedside tables and a natural wood desk. This gives the room a warm feel.
The chinese lamps complement the blue scheme of the room and combine the blue theme with the natural wood.
Downstairs the inspiration started with the discovery of the pink sofa at https://www.next.co.uk/laura-ashley.
The navy blue sofa from https://www.barkerandstonehouse.co.uk provides a contrast. The fabric for the curtains from John Lewis and Laura Ashley tie the room together. The rug from Barker and Stonehouse is the perfect foil!
The kitchen comes from The Kitchen Warehouse https://www.kitchenwarehouseltd.com
The Neff hob was supplied by Kitchen Warehouse. The oven is Miele and supplied from their shop in town. Appliances and utensils are from Beks and a combination of Steamer, Pro-Cook and ao.com when there was no local supplier.
The colour was chosen to compliment the sitting-room. The table and chairs are from www.smithstherink.co.uk The white shiny stone top presents a more striking finish than the white worktops. The pink cushions on the dining chairs repeat the colours from the sitting-room. Together these features give the ground floor a cohesive feel throughout- and the white surfaces from the kitchen and grey unit and coffee table in the sitting are reflected in the choice of marble effect finish in the bathroom and the grey unit. The bathroom fittings and furnishings were all supplied by https://www.epsharrogate.co.uk.
Throughout the property there is a sense of joy. The colours and ambience are cheerful and bright without being over bearing. Guests fall in love this property from the moment they open the door!